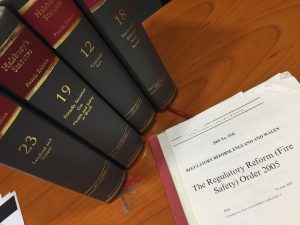 The Regulatory Reform (Fire Safety) Order 2005
This section is dedicated to the interpretation and understanding of the Fire Safety Order.
Click on each link to see the Article text, together with the guidance produced by the government in respect of each Article. It is my intention to provide a legal interpretation in respect of the most commonly used Articles in due course. In the meantime, I have included some discussion posts which outline my experience of the way in which the courts have interpreted various parts of the Order.
The Original Purpose of the Fire Safety Order
Part 1
General
Article 1 – Citation, Commencement and Extent
Article 3 – Meaning of 'Responsible Person'
Article 4 – Meaning of 'General Fire Precautions'
Article 5 – Duties Under This Order
Article 6 – Application to premises
Article 7 – Disapplication of Certain Provisions
---
Part 2
FIRE SAFETY DUTIES
Article 8 – Duty to Take General Fire Precautions
 .
 .
 .
 .
Article 14 – Emergency Routes and Exits
Article 15 – Procedures for Serious and Imminent Danger
Article 16 – Additional emergency measures in respect of dangerous substances
Article 18 – Safety Assistance
Article 19 – Provision of information to employees
Article 20 – Provision of information to employers and the self-employed from outside undertakings
Article 22 – Co-operation and Co-ordination
Article 23 – General Duties of Employees at Work
Article 24 – Power to make Regulations about Fire Precautions
---
Part 3
ENFORCEMENT
Article 25 – Enforcing Authorities
Article 26 – Enforcement of Order
Article 27 – Powers of Inspectors
Article 28 – Exercise on behalf of fire inspectors of their powers by fire officers
Article 29 – Alterations notices
Article 30 – Enforcement notices
Article 31 – Prohibition notices
---
Part 4
OFFENCES and APPEALS
Article 34 – Onus of Proving Limits of what is Reasonably Practicable
Article 36 – Determination of Disputes by Secretary of State
Both the Regulatory Reform (Fire Safety) Order 2005 and the Regulatory Reform (Fire Safety) Order 2005 Guidance Note No. 1: Enforcement, are published here in accordance with Crown Copyright. They are published for research and study purposes.
The Regulatory Reform (Fire Safety) Order 2005- © Crown Copyright 2005
The Regulatory Reform (Fire Safety) Order 2005 Guidance Note No. 1: Enforcement- © Crown Copyright 2007
---
---