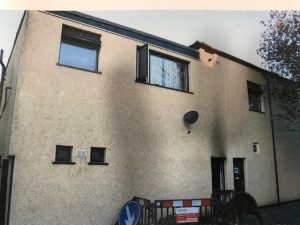 A landlord has been given a suspended prison sentence following a fire at an HMO in Preston, Lancashire.
Valli Patel, 74, was ordered to pay £18,455 in fines and costs, in addition to a 24 week prison sentence suspended for 18 months after he pleaded guilty to 7 charges under The Fire Safety Order.
Patel, a former county councillor, owned premises at Rutland Street, Preston, which contained a nursery and three first floor flats.
Warren Spencer, prosecuting for Lancashire Fire and Rescue Service told the court that In the early hours of 9 April, 2017, a serious fire started in an electrical meter at the bottom of the single communal staircase to the flats, resulting in the occupiers having to make their escape via first floor windows. Due to the build-up of smoke and heat in flat 22a, Durga Pandy had to take the drastic action of throwing her 18-month-old child from a first-floor window into the arms of her husband on the street below. Both mother and child spent the night in hospital suffering from smoke inhalation. As a result of the fire, a further 4 occupants had had to escape via first floor windows were rescued by the fire service and members of the public after standing precariously on some signage for the ground floor nursery.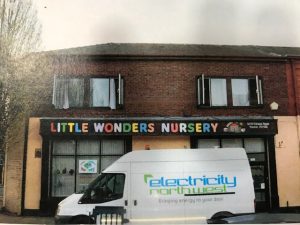 Mr Spencer told the court that a fire safety inspector had attended the premises following the fire to discover if a suitable and sufficient fire risk assessment had been carried out and to establish if any general fire safety precautions had been provided, and operated, to ensure the safety of relevant persons at the premises. An inspection of the fire alarm system by a qualified fire alarm engineer determined that the fire detectors and sounders covering the flats had, in fact, been disconnected from the system.
Significantly, Mr Patel had made a building regulations application to Preston City Council in 1995 when the property was converted to flats. The application had stated:
a) that emergency lighting should be provided in the stairway
b) flat entrance doors should be fire resisting with smoke seals
c) outlines where alarm system detector heads should be placed, including detection in the stairway
d) that the fire alarm should be audible in all flats, irrespective of which detector head actuates
When interviewed, Mr Patel had accepted that he had never tested the fire alarm system, and that the last time he had heard the fire alarm sound was 8 to 10 years ago. Mr Patel stated that he had assumed that testing the fire alarm system was the responsibility of the Nursery on the ground floor, despite the fact that the alarm was not connected to the Nursery.
The following breaches of the Fire Safety Order were found within the premises:
Flat doors which had mortise locks, key operated which were inappropriate for this type of accommodation
inappropriate fire alarm detection within the flats
No working emergency lighting in communal stairwell
No smoke detection in corridor
no "borrowed light" in the corridor, which had the final exit door
final exit door which had a mortise lock fitted which is wrong for this type of accommodation,
gas installation consumer unit on only means of escape
electrical consumer unit without adequate fire resisting cupboard
lack of appropriate fire resisting doors on flats
no self-closing flat doors
lack of suitable and sufficient fire risk assessment
lack of a clear evacuation policy
lack of fire safety information to be passed to residents
Sentencing, Judge Robert Altham said that the defendant's culpability in this situation was high and that the risk of death or serious injury was also high. However, he stated that the defendant had shown that he had a positive good character and was a benevolent and public spirited man in many ways had had a productive working life. He had received references which suggested that in no sense was he a bad landlord.
Judge Altham stated that this was a serious matter and that a serious message needed to go out to those responsible for similar types of premises.
Press Report