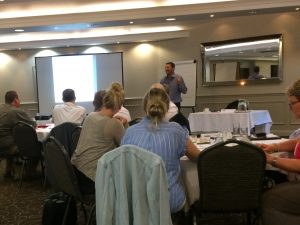 I would like to thank everyone who attended my recent seminar on 'Risk Assessing The Risk Assessor' and for the kind feedback. A selection of the comments are below. I am hoping to run a similar seminar in the south before the end of the year.
"Thank you for a useful and interesting event. Great turn out and looking forward to many more in the future."
 "I found your style of presentation excellent as to the content material. For me I thoroughly enjoyed the event."
 "Enjoyed the presentation yesterday with great content and done at a good pace. Liked the reference and background to case studies mentioned where it made could make you think and relate to it. Always pick something up and the Q & A is always of value."
"Great presentation, I found the content extremely informative and your presentation style very engaging. Good Job."
""absolutely spot on. Put some more on Warren, I'm sure they will be as well attended as today was.
"I very much enjoyed the training on Thursday morning and have already amended my documents to reflect some of the items you covered."
"May I congratulate you on the highly informative, extremely helpful and sadly very timely seminar on the duties and obligations of the fire risk assessors role. In particular I found the advice on liability limitation and prudent disclosure when in the hands an interviewing authority refreshingly practical."
"Just a line to say that I thoroughly enjoyed yesterday's seminar."
"A very informative seminar. The documentation and presentations are of great help."
"Really enjoyed it, found it very interesting and thought provoking"
"Warren's experience in this arena is outstanding and any Fire Risk Assessors out there should make time to attend any future sessions- really is food for thought!"
"The Assessing Assessors seminar 15th June was time well spent. I brought a client and a business friend with me. The client was impressed as an outsider on how professional and serious our industry is, and like many in the room took something from the event. Warren Spencer delivered a very clear message, clearly based on his extensive defence and prosecution experience, to ensure our industry assessors are qualified, experienced, accredited and protected as part of the process of Fire Risk Assessment"
"I thought your presentation was very informative. From my point of view the content, seemed about right and pitched at a good level for fire risk assessors and engineers. I am sure you will be well received as you undertake more of these.  I look forward to future legal/ fire presentations and updates. It was also very interesting to hear you talk about an all encompassing fire risk assessors accreditation body."